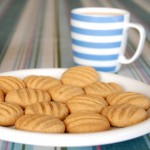 These biscuits are a firm family favourite, good for the school 'morning tea' box or a snack at the beach. They are quick and easy to make and always popular when shared with friends!
Beat 125g of butter with 80g of brown sugar until creamy and add 1tsp of vanilla essence
Mix in 50g of self-raising and 50g of plain flour (wholemeal).
Add 2 tbsp of milk and, when mixed, a further 65g of self-raising flour and 50g of plain flour
Mix into a dough.
Make balls of the dough (about 24) and place on a non-stick baking tray.
Press the back of a fork onto the balls to squash them into biscuit shapes.
Cook at 160C for about 20 mins (longer makes them crispier).
Cool on a rack and enjoy with a cup of tea.