Last year I went to the inaugural Australian Garden Show in Centennial Park, Sydney and really enjoyed it, so I was looking forward to going again this year. It was all planned; Mr Rambles kindly agreed to work from home on Friday so I could go. This also meant I could head off early and not have to rush home in time for school pick up.
Annoyingly, on Thursday, I came down with a cold. I was still determined to go, so dosed myself up and headed off, in the rain, (we've had a lot of rain recently), wearing my new full length rain coat.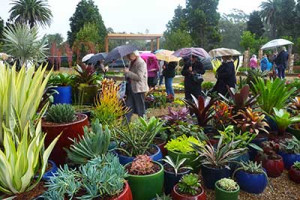 After arriving at the show I had a quick look at the feature gardens. There were plenty of umbrellas around, the rain hadn't scared everyone away, but it was far from being crowded, which meant I could get a close up look at the plants. Then I wandered around the Inspiration Gardens, which showcased a selection of horticultural and landscape designers.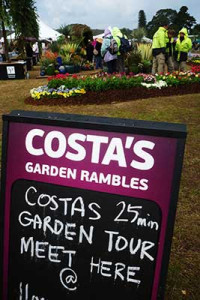 A sign caught my eye (Costa 'Rambles' too!)  For those of you who don't know him,
Costa Georgiadis
is a landscape architect and tv presenter on the ABC's '
Gardening Australia
'. He is passionate about sustainable living, and has his own chickens and veggie patch. I couldn't resist a chance to meet him, so waited near the sign in the rain. There were only a few of us; I thought we were about to get a really personalised tour, but then the rain stopped and hoards of people appeared out of nowhere. By the time Costa arrived quite a crowd had formed.  
His 25 minute tour of the Inspirational Gardens lasted for nearly an hour and the sun stayed out the whole time. He was very entertaining and full of energy and enthusiasm and pointed out things about the gardens which helped us to view them from different perspectives. At the end of the tour Costa was answering questions and posing for photos, but I was fading fast, so slipped off and found somewhere to eat my lunch and drink a coffee.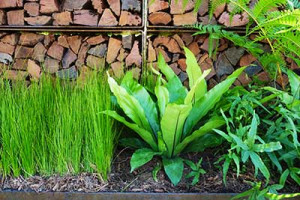 Feeling fortified I went to have another look at the Inspirational Gardens. I spent some time looking at, and photographing, details to help get ideas for my own garden.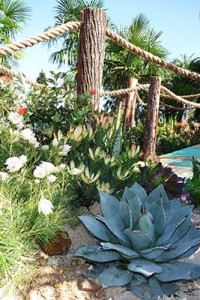 A couple of years ago, we had an extension put onto the house and the main garden still hasn't recovered from the builders who treated it like a rubbish tip. I am slowly turning it back into a garden, and trying to establish new plants, but still find lumps of dumped concrete and old drink cans as I dig. It really needs some more landscaping and redesigning.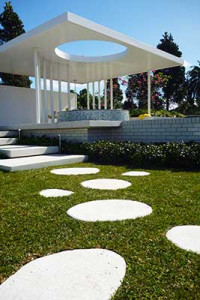 The gardens at the show were all very different from each other. Some were concerned with their environmental impact, others with affordability in mind, some fun and playful, and some stunning architecture. There were a few pavilions and some with quiet 'hide away' places. I would love to try and make a space like that in the Rambles' garden. I would like to incorporate some fun places in the garden for the children and for the chickens!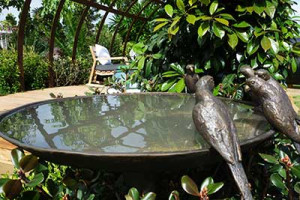 As I walked around I found myself chatting to some of the gardens' creators who were all very friendly and happy, despite the fact they had to prepare their gardens during a week of heavy rain.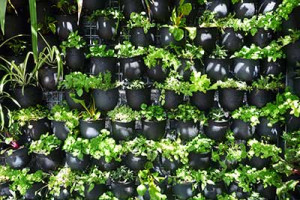 Another section of the show featured city and balcony gardens, with creative ideas for gardening in small spaces, and inspiring ideas for edible gardens. 
There weren't as many reusing/upcycling ideas as last year's show. It would have been great to see a veggie patch incorporated in one of the Feature or Inspirational Gardens; maybe next year!
There were many plants for sale at the show, including the edible variety but, as I was travelling by bus, it wasn't practical to buy any. Instead, I stocked up on a few packets of organic seeds and some elephant garlic which I am looking forward to planting!