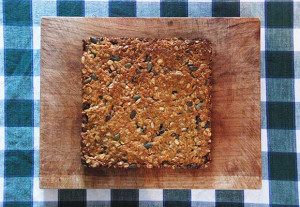 As most muesli bars contain nuts and I have an anaphylactic (a severe allergy to nuts) son, Master Rambles sometimes feels left out when other children have muesli bar 'treats' in their lunch boxes. Recently he saw an advert for a new range of 'nut free' muesli bars and asked if I could buy some for him. I saw them in the supermarket and, without really thinking it through, bought them. It was only when I got home that I read the ingredients and discovered that these 'healthy' bars were full of preservatives (which is another ingredient Master Rambles has to avoid). Junior Rambles and I tried them, and they were fairly tasteless anyway, and I wasn't too impressed with the excessive amount of packaging.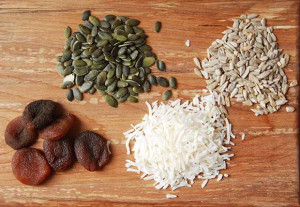 To try to alleviate Master Rambles' disappointment I decided to make some of our own and, slightly to my surprise, my first attempt was a success. While it would be fine to use supermarket ingredients, I bought organic and preservative-free ingredients from a local health shop – slightly more expensive than the supermarket but all the ingredients together still cost less than the packaged muesli bars!
So here is my, very simple, recipe for nut-free, preservative-free and packaging-free muesli slices.
Melt 100g butter in a small pan with 75g of golden syrup and 50g of brown sugar.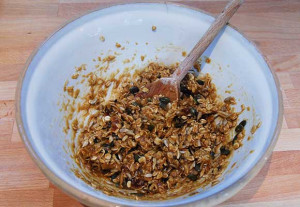 Meanwhile, in a mixing bowl, combine 100g wholemeal self-raising flour, 80g of rolled oats, 50g of sulphite-free dried apricots (chopped), and 25g each of pumpkin seeds, sunflower seeds and preservative-free shredded coconut.
When the butter and sugar mixture has melted and dissolved, stir through the dry ingredients.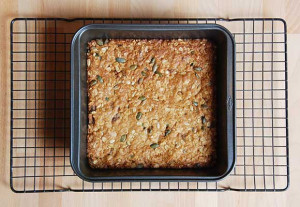 Transfer the mixture into a baking pan (mine is 8″x8″) and cook at 170C for about 20 minutes.
Once out of the oven let the mixture cool for about 10 mins before turning out onto a cooling rack.
Allow to cool completely before cutting into desired shapes and sizes. It is difficult to cut when hot as it is very crumbly (I have tried, and failed).
Perfect in a lunch box, or enjoyed anytime with a cuppa!