This is not actually my own original recipe, I 'borrowed' it from Mr Rambles. I have had several requests for the recipe recently, so here it is, reproduced by kind permission. Thank you Mr R.
When Master Rambles was on his strict elimination diet he couldn't enjoy Mr Rambles' lemon sponge cake, so I changed it to a vanilla sponge and filled it with cream and the only fruit he was allowed, pears. It was an instant hit, and has now become our family's favourite cake. For a special occasion, for a not so special occasion, or for when it just feels like a cake sort of day!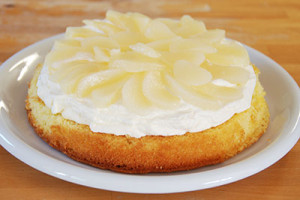 Cream together 125g softened butter and 220g castor sugar with a teaspoon of vanilla essence
Add 2 eggs to the mixture and beat
Add 75g of self-raising flour and mix until smooth
Add another 150g of self-raising flour and a pinch of baking powder
Mix until smooth
Pour in 125mls of milk and mix until smooth
Divide into two lined 8″ cake tins and cook at 150C for about 40 mins (until a knife comes out clean)
Carefully remove from tins and place on a cooling rack

When the cakes are cool enough, add some whipped fresh cream to one half, and top with sliced pears. I use very ripe or tinned ones.
Place the other half on top
Enjoy. Goes down exceptionally well with a cup of tea!