A couple of years ago, Master Rambles was on a special elimination diet and the only fruit he was allowed to eat was pears. This humble fruit was tried, tested, and re-invented in many of our recipes. Pear and oat muffins were the most successful and proved popular with the whole family. They have also become a firm favourite with my fellow Thursday morning Stand Up Paddle group.
I have had a few requests for the recipe, so here it is, enjoy!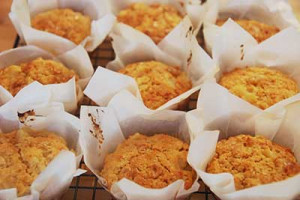 Cream together 150g of softened butter and 80g of brown sugar with 1tsp of vanilla essence
Add 100g of rolled oats and stir through
Now add 225g of self-raising flour (I use wholemeal) with
2 beaten eggs and 3-4 pears (peeled and chopped into small chunks) and stir through
Note: extra/over ripe and juicy pears are best.
Divide the mixture evenly between cases in a standard 12 hole muffin tray
Sprinkle the top of each muffin with a little brown sugar
Cook at 190C for about 25 minutes
Check that they are crisp and nicely browned on top, then remove from tray and cool on a rack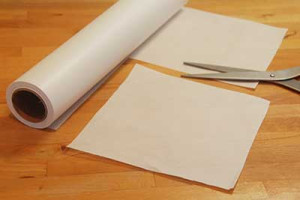 You can use pre-bought muffin/cup cake cases, but making your own (out of baking paper) is cheaper and the finished cases can go straight into the compost. Cut 12 squares out of the baking paper.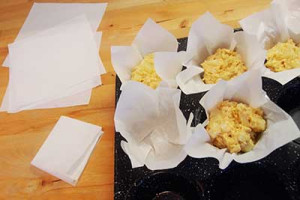 Next, fold the squares in half twice, then open them out and push them into the holes. Carefully spoon your muffin mixture into each one.