We live near the shores of beautiful Pittwater and until recently only enjoyed the beaches and the views but we had never been on the water. For years we had watched people stand up paddling on Pittwater and thought it looked fun. We finally got round to having a go last year when I bought Mr Rambles a voucher for a stand up paddle lesson for his birthday. The lesson was with Tony Henry of Avalon Stand Up Paddle at Pittwater's Clareville Beach.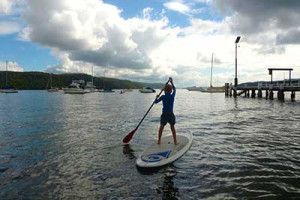 Tony insisted the whole family took part; Mr Rambles and I had a board each, while Master Rambles joined us in a kayak and Junior Rambles sat on the front of Tony's board. Earlier that morning, it was raining, I phoned Tony as I wasn't sure if the conditions would be ok. "The conditions are perfect!" he reassured me. It was a Sunday in January (the summer holidays) and a normally packed beach car park was empty except for our two cars. Tony was right, the conditions were perfect, the water was completely calm and, as the little bit of rain seemed to have frightened everyone away, we didn't see another soul on the water. Tony was an excellent teacher and we soon picked up the basics and managed a paddle to Paradise beach and back.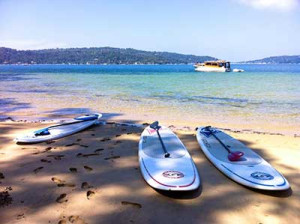 That was it. The whole Rambles family was hooked on SUP! It's great fun and not difficult. It's supposed to help your '
core stomach muscles'
, which sounds good to me. I also like the fact that it is low impact on the environment. The best bit for me though, is the freedom it gives to explore Pittwater.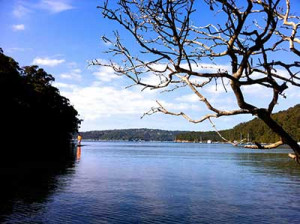 There are so many beaches and inlets on the National Park shore line that are only accessible by water, and on a paddle board you can often explore further than by boat.  I love landing on a deserted beach and feeling that I am miles (kms) from anywhere.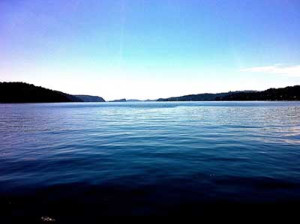 Sometimes, on a calm day, the best place to be is right in the middle of this amazing body of water; taking some deep breaths and pausing before heading back to shore and back to reality.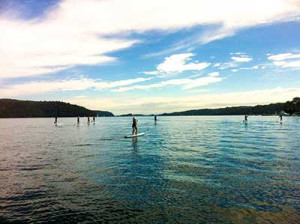 Groups of paddlers go out most mornings, and I usually try and join them once a week. It's fun paddling with others and there is a feeling of safety in numbers when out on the water.